The term epoxy represents a combination of resins and hardeners. When mixed, the resin and hardener react chemically to form a rigid plastic material that is strong, durable, resistant, and bonds perfectly to the base layers. Epoxy floors are strong enough to endure heavy traffic in areas such as hospitals, garages, industrial environments and sports facilities.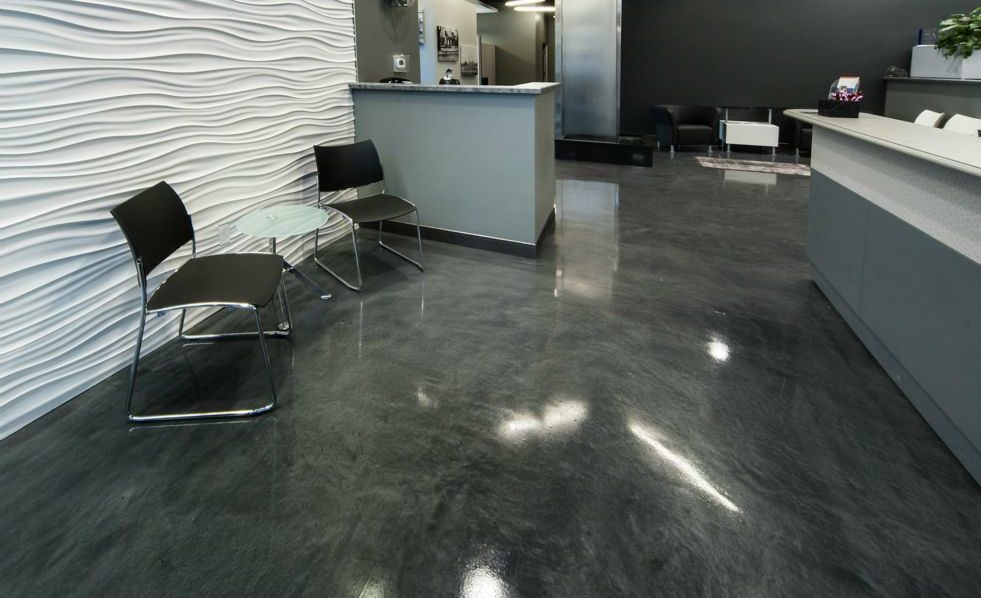 Creates a shiny, glossy surface that increases the brightness of the rooms
Withstands heavy and continuous traffic
Quick and easy to install
Durable and easy to clean
Ideal for warehouses and industrial applications
Resists oil stains and water
Offers seamless surface.
Unique designs combined with paints and colors can be made.
A Few Commercial And Service Based Industrial Floors Which Need Epoxy Coatings
Food And Beverage Industry
High-volume food and beverage processing plants have constantly-wet settings, frequent high-pressure hosing and temperature extremes. The flooring system must be moisture-tolerant. Industrial Epoxy floor coatings protect floors from chemicals, acids, alkalis and temperatures in the food processing plant. It stays well-bonded during extreme temperature fluctuations. The proposed turnaround time will work with your production schedule. The floor has antimicrobial properties throughout. It is slip resistant and can it be adjusted for different areas of the plant floor. The decorative elements like colored chips and colored quartz blends can be incorporated for selected areas.
Hospitals
There are thousands of patients that visit hospitals each day and hence they require quality floors that can withstand heavy foot traffic. Hospital floors must meet strict health code requirements and also create a welcoming and positive atmosphere for the professional staff, patients and visitors. Best flooring system should be selected that would perform within hygiene and infection control protocols, promote patient and staff safety and reduce maintenance costs and also last long. Industrial Epoxy coatings are ideal for various rooms within hospitals such as Operating rooms, Emergency rooms, Intensive Care Units, patient rooms, Pharmacy, Laboratories and more.
Car Dealership And Showroom Flooring
In car dealership and showrooms, the look of the floor also contributes to great sales. While walking through the showroom door, customers like to see new vehicles that would be displayed on elegant and beautiful floors. Epoxy Floor Finishes for showroom areas are beautifully tough and high performance coating systems which would decorate all the customer access areas namely automobile showrooms, Motorcycle Display Floors, Truck and Trailer, Vehicular Equipment Showrooms, Retail Areas, Customer Waiting Areas and administrative Offices.
Other Important Places Where Industrial Epoxy Floor Coatings Are Used
Commercial and retail, aviation and transportation, airport and concourse, hangar, science and technology, education, sports and athletic clubs and more.
Industrial Epoxy Flooring Services At Florida Usa
With a network of Epoxy floor coating professionals including our certified Installers, experienced representatives, and dedicated Customer Service Team, we at Mckinnon Materials Florida USA assure you that we would meet your industrial concrete flooring challenges at the earliest turnaround time within your budget.