An epoxy is a two-part product formed by mixing a resin and hardener(activator). Epoxies do not "dry" like paints dry – by evaporation of water or oil-based solvent. On the contrary, they cure and harden by chemical reaction between the two elements. An Acrylic Epoxy Cement coating is an advanced blend of acrylic, epoxy and cement that protects concrete floorings and makes them waterproof. Epoxy coatings give you tough and attractive flooring. They chemically bond with the concrete. There are many colors and decorative options available.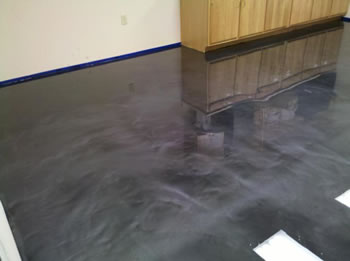 Benefits Of Using An Epoxy Coating
Provides highly durable surface than floor paint.
Endures heavy traffic
Easy-to-clean floor with resistance to stains from spills
Suitable for both residential and commercial buildings.
Best suits outdoor locations like patios, sidewalks, swimming pools and pool decks.
Vibrant and unique designs can be customized.
Can be installed quickly with very little downtime.
Design Ideas For Epoxy Coatings
Metallic Epoxy Coatings
This epoxy-based system "guilds" your concrete to mimic the look of silver, copper, nickel, aged bronze, and more. Some coatings contain real metallic powders whereas others contain special reflective pigments. They are popular for floors in office, retail and restaurant settings contributing to a modern, high-gloss look to these buildings.
Garage Floor Coatings:
These are special epoxy floor coating system suitable for garage floor to make it a wear- and chemical-resistant surface even if subject to hot tires.  There are a wide variety of color options which can be combined with multicolored chips and decorative quartz which gives a look similar to terrazzo or granite.
Find A Concrete Epoxy Overlay Material Contractor Near You!
The residents of Florida have Mckinnon Materials in Florida – the best contractors for installing attractive and durable concrete epoxy overlays for their concrete surfaces.  We have served the people of USA for the past 60 years with our self-formulated Epoxy coatings.  Aurora Epoxy Dust Metallic Epoxy Coating, Industrial Epoxies of Paint Chips and Color Quartz, Mckrete Decorative Concrete Overlays(acrylic epoxy cementitious material), Deck Overlay system(stampable overlay), Chromastain and more  unique proprietary formulations are available at Mckinnon Materials.  There is a wide variety of coating products for indoor and outdoor concrete floors which will add grace, strength and durability to them.