Acrylic Concrete Coatings:
Acrylic sealers which are acrylic concrete coatings are available in solvent- and water-based formulations. These are suitable for projects for which the economy and easy application are crucial. These can be applied on both interior and exterior surfaces. They form a thin protective film which protects the concrete surface against water and chloride penetration and on the other hand, allow moisture to escape from the concrete surfaces. They are non-yellowing and UV resistant. Acrylic sealers can be used to bring about a glossy look to the concrete surfaces. They add beauty to colored, stamped and exposed-aggregate concrete.
How Do Acrylic Sealers Work?
Acrylics are very thin sealers and so they wear away fast. Hence they will soon require reapplication. They require regular maintenance with several coats to prevent black heel marks and wear. The best idea is to use acrylic in combination with epoxy cementious material . Mckrete Concrete Overlay System is one such blend which can be easily applied over your concrete surfaces. This decorative concrete coating material can be used to transform your artistic vision in to reality.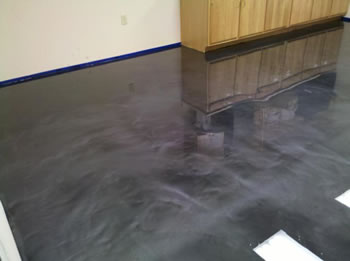 Benefits Of Decorative Concrete Overlay
Design Options:
There is a wide range of design options that can be created with decorative concrete overlays. Virtually limitless colors and textures can be created with advanced technologies in concrete mixing and setting. Application can be done with a variety of methods like acid staining, splatter texture, thin stamp overlays, and slate trowel down finishes to create attractive textural patterns and custom designs. Decorative concrete can also replicate natural stone.
Strength, Long Life Span And Resistance
Decorative concrete coatings increase the strength, longevity and life span of concrete surfaces. It is stronger than other comparable materials and the rate of deterioration is slower. The acrylic epoxy cementious decorative concrete makes the concrete floor resistant to weather, UV rays, heavy loads, mold and dust.
Easy Maintenance:
Spills on decorative concrete can be cleaned easily with just soap and water. There is no need of regular polishing or coating. A sealer must be applied after every 4 years. With such low maintenance, you can save your time and money avoiding huge expenses for maintenance and repairs.
Reasonable Cost
The most amazing benefit is that decorative concrete coating is available at very low cost. Even though it is inexpensive to install, it has extreme durability, resists damages and can be easily maintained and cleaned. Surely, it is the most economical floor coating solution.
Fortify and beautify your concrete surfaces with Mckrete Concrete Overlay System. If you are impressed by the use of this acrylic and epoxy cementious coating, install this at your home, office and other commercial buildings today.